Growing up in the cult I had to make a lot of sacrifices. There were so many things I was never allowed to do. Sports, dance, music, tv, entertainment you name it. Even though I can live my life now as I please and fulfill a lot of dreams. I can't get rid of the feeling that my childhood got stolen from me.
One of my biggest sacrifices was giving up swimming, as I loved to swim. As a kid, I got a season ticket for the swimming pool for the summer holidays. Many times a week I would go swimming with my neighbors or friends from school in this amazing pool facility we had in our small town. But when I reached the age of 12 it came to a brutal end.
picture: Swimming pool facility in our county
We weren't supposed to expose ourselves to others in bathing suits and by reaching the age of 12 I was looked at as a young woman.
My parents explained why I couldn't swim anymore in public places. Even though I understood it then, it did hurt. It hurt so much not be able to join my friends when they were going for a swim. When one of my younger siblings would swim for their diploma I prayed and wished some kid would fall in the pool so I could rescue him/her and swim. This is how badly I wanted to swim. I would dream and look with longing eyes into the water and wished I could just jump in it. Just the smell of the swimming pool would make me wish and dream.
In the summers we would go swimming in the nearby lake. Always late in the evening so we would be alone and nobody would see us. But it wasn't really the same swimming with clothes on in sandy, cloudy water. Every time I would hit the bottom I would shudder of the things I would feel with my feet. I still don't like swimming in the fjord, lakes or another place where I can't see the bottom and what is beneath me.
In the church, the pastor made fun of those adults that did swim.
Comparing it to sharing a bathtub with strangers and how all these women in bathing suits were seducing the men. The prophet even said we were designed by Satan to seduce. In the Dutch church where I grew up, we weren't allowed to show any female part of our body. We wore long skirts or dresses and clothes that were too big just to hide it all.  They would often discuss and say how immoral the Scandinavian countries are where they don't have private showers and changing rooms. I am totally aware that there are countries where men and women are not allowed to swim together. But here in the "West", it is normal.
Just a few months after we left the cult, we were on a long weekend in Danmark. Nearby our hotel they had this amazing swimming facility and for the first time in all those years, I swam in a real pool. The happiness I felt inside of me was overwhelming. I thought I might explode off the excitement. Coming home and start swimming in our counties swimming pools wasn't that easy. Cult or no cult I am not used to showering naked with other women. In The Netherlands, every public swimming pool has private changing rooms, separated showers you don't need to share.
It took some time until I finally got over myself and started swimming weekly again. I still am not really comfortable in the garderobes but one step at the time I find myself feeling freer.
~~~
The other sacrifice I had to make were my toys. From I was 4 years old I loved the horses from "My Little Pony". Every birthday they were on the top of my list. I was collecting them with the accessories until I was 13 years old and was forced to throw them all away. I felt so hard broken but it was all in the name of sacrificing my worldly goods for the afterlife.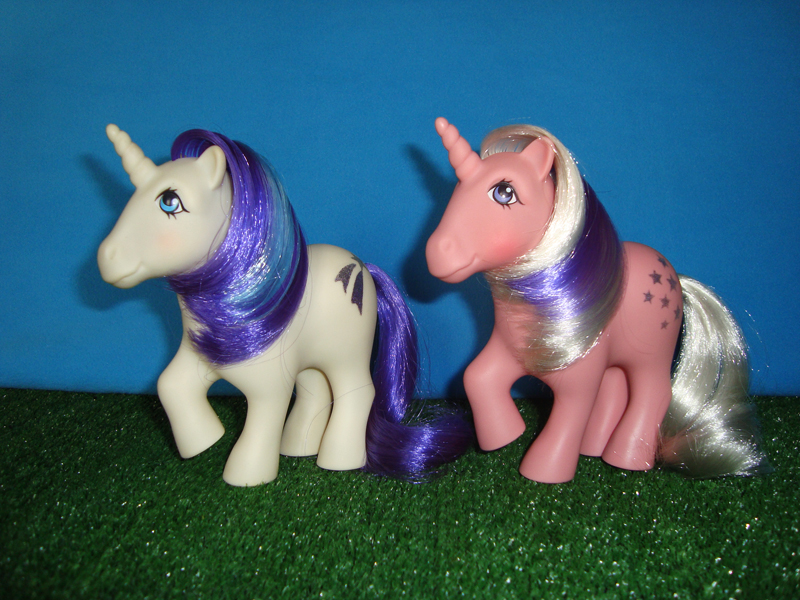 The old models from the '80s and early '90s; I had them all. Until they made them smaller and more skinny. Those I didn't like. I had the castle, the dance school, a lot of clothes. I brushed their hair and had them displayed in a corner of my sleeping room. It was my comfort corner. Whenever I would feel sad I would lay down on the floor and look at them and all the colors. It made me happy. I think I even had some of them with me in bed before I got older.
But then the day came my mum got this booklet from a friend that was about children and occultism.
In it, there was a list of toys and a story about how these toys were drawing the children to hell. And unfortunately "My Little Pony" was on the list. I cried a river. I know my mum loved me and wanted the best for me understanding that she was afraid of the hell and doom that they put on us too and tried to protect me from it. She believed with her whole heart that she was doing and teaching us the right thing.
But I put so much effort and money in it to gather them all. I didn't get any pocket money so I bought them all from the money I got on my birthday. Sometimes I had to save for 2 years to buy what I wanted. But my mum convinced me I had to get rid of them. I asked her to sell them so I could at least get some of the money back but then she said I shouldn't because it would draw another child to hell and I didn't want that to happen. So with a broken heart, I threw them all away.
I was kind of heartbroken over it. But it did help when I got to care for some real horses and got to ride them. I remember witnessing about it that my sacrifice paid off but I still regret it until this day that I did it.
If you liked this blog-post you might also like: